Slaughtering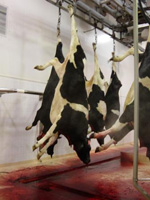 F.E.A. globally supply complete cattle lines, integrating the design, manufacture, installation and the commissioning. Our cattle processing floors can run anywhere from 5 per shift up to a capacity of 100 head per hour.
All our systems are designed to meet individual client requirements. We have the capability to build all equipment in-house giving a clean, pleasing and marketable appearance. Our system offers trouble free operation with minimum amount of maintenance required.
F.E.A. system's are designed to AQIS, USDA and EU regulations.
Our scope of supply for our cattle processing floors covers:
Ritual Casting Pen/Knocking Box
Lander
Bleed Conveyor
Dressing Conveyor
Handwash Units
Head Conveyors
Hand Tool Sterilisers
Paunch Opening Tables
Chillers
Packing Areas
Conveyors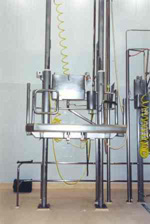 Drying Landing Grate
Bleed Elevator
Legging Hoist
Hydraulically Operated Rise and Fall Platforms
Hide Pullers
Evisceration Flight Tables
Inspection and Re Inspection
Red offal Washer
Side or Quarter Boning Systems
Load Out Areas
After 30 year of Middle Eastern and South East Asian experience, F.E.A. are specialists in the Islamic market place. These systems incorporate our Ritual Casting Pen, designed and manufactured by F.E.A. in the mid 1980's.
RITUAL CASTING PEN/KNOCKING BOX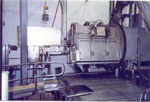 The Ritual Casting Pen is designed to give 135° rotation. The sequence of operations is carried out via hydraulic hand valves located at the ritual end of the Casting Pen. The operator manually controls all operations.
The animal is then released and exits the Ritual Casting Pen onto the Dry Landing Grate.
The Ritual Casting Pen is used for Islamic Slaughter, where as the Knocking Box is used in Non Islamic Cattle Processing floors.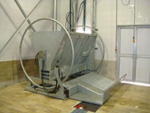 Dehiding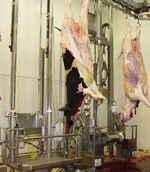 F.E.A. offer upward and downward hide pulling machines. The F.E.A. downward hide pullers incorporate a sternum hook device which does not require an electrical stimulation to be used during downward hide pulling.
Our hide pullers are constructed from mild steel, hot dipped galvanised finish. They come complete with:
Hydraulic Lifting Boom
Hydraulic Drum Drive
Flow Controllers
Control Equipment
Stainless Steel Leg and Hide Chains
Chain Stands
Chain Steriliser
Own Hydraulic Power Pack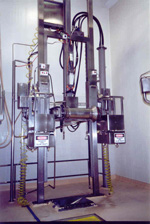 Evisceration
F.E.A. evisceration and inspection systems.